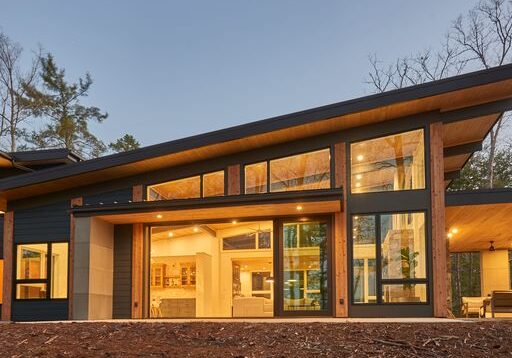 Finding a partner you can trust to build your dream home and steward your investment wisely can be overwhelming. At Lake James Custom Homes, we'll guide you every step of the way - from lot selection and design choices to budgeting and construction - for a premier experience that leaves you confident in your investment and happily enjoying your new home. 
We're the partner you've been looking for.
Combined, our team has over 100 years of experience in the homebuilding industry.
We know how our customers think, which is why we're adept at staying on the same page.
From lot selection to the final nail, we are the partner that you can depend on.
Premier, Custom-Built Homes
Here's how we bring your dream to life:
Book a Consultation
We'll discuss your location, needs, desires, and budget.
Design and Plan
We'll walk the land together and have you assist on the design process, and we'll consistently provide updates. We'll also create a pre-construction agreement during this stage.
Enjoy the Home of Your Dreams
Leave the rest to us. Go from relaxing on the beach to lounging on the lake at your new dream home.
We're building dreams in the mountains of North Carolina.
Whether it's your dream home or that perfect waterfront retreat you've envisioned, you need a partner that will bring your vision to life and steward your investment wisely. We recognize that building your dream home can come with a lot of excitement but also the possibility of encountering challenges during the process. It can also be tough to stay within budget while still achieving everything you want in your home.
Therefore, we aim to equip you with the necessary knowledge and resources to make educated decisions, ensuring that you feel secure in your choices and that your budget is allocated efficiently.
You deserve a partner you can trust with every aspect of your build – from lot selection and design choices to budgeting and construction. 
With more than 100 combined years in the construction industry, our team can guide you through every step of the design and build process, and we understand how our customers think, what they might be concerned about at different stages, and what excites them.
By partnering with us, you'll go from only dreaming of your second home to actually enjoying your new retreat, knowing it was money well invested. Let's build something beautiful together.

"Incredible builders with integrity. Do what they say they will do and does it when they say they will. Great team that stays ahead of schedule and finishes at the number they tell you they will at the start of the job."
"If you're looking for a company to build your dream home then look no further and go with them. They have the highest of standards around and have a great team of employees."
"LJCH rises above the others. Their attention to detail with our home was fantastic and is still very evident today. We lived outside of Chicago during the building process and were only able to travel down once every few months, but Kyle & his team still kept us well informed during the building process via calls and Builders Trend. LJCH & their teams exceeded everything we could have hoped for in our new home & we could not be happier!"
Why build near Lake James?
Natural Beauty
Lake James is situated in the foothills of the Blue Ridge Mountains and offers breathtaking views of the surrounding landscape. The lake itself is one of the cleanest lakes around, making it perfect for swimming, boating, and fishing.
Peaceful Lifestyle
If you're looking for a place to escape the hustle and bustle of city life, Lake James offers a peaceful and relaxed way of life. The area is quiet and serene, with a close-knit community of residents who value the natural beauty of the area.
Real Estate Value
Homes in the Lake James area are highly sought-after and hold their value well over time. This makes it a smart investment for those who are looking to build a home or purchase a vacation property.
Not Sure Where to Start? Find examples of spaces and features in our Inspiration Gallery!